El Mirador Fine Picture Framing has been serving Albuquerque, NM from its Nob Hill location since 1978, specializing in custom picture framing for both individuals and corporate accounts.  Our customers return and refer – the highest compliment of all.
Meet our staff: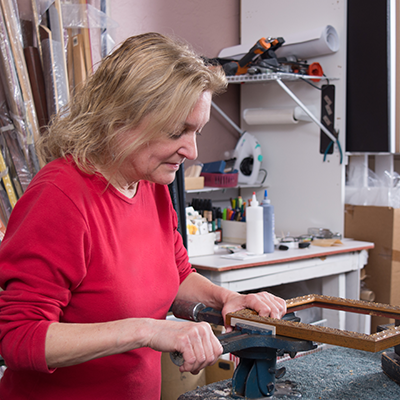 Maria Port – Owner/Designer/Framer
Maria fulfilled her dream of owning her own frame shop in 2015 with the purchase of El Mirador Framing.  She brings to the shop over 30 years of picture framing experience in busy frame shops.  After moving to New Mexico from Nashville, TN, Maria worked as a designer/picture framer in Santa Fe, until purchasing El Mirador where she's upgraded 90% of the equipment to add to the shop's capabilities.
A talented artist in her own right, Maria earned an Interior Design degree at O'More College of Design in Franklin, TN (a thriving, historic center south of Nashville). She applies her innate artistic skills, focus on precision and perfection, and her knowledge of interior design concepts to every framing project. Her love of art and interior design led her to become an expert in conservation framing.  She applies an acquired experience with reliable suppliers and state-of-the-art techniques to each project, large or small.
Robyn Thornton – Designer/Framer

Robyn Thornton joined El Mirador Framing in early 2017. Robyn completed coursework at Hallmark Institute of Photography where she finished in the top 5 of her class. Her focus was in portraiture and commercial photography. These days she photographs landscapes and nature for her own enjoyment. She brings her love of visual imagery and 15 years of picture framing experience to El Mirador.